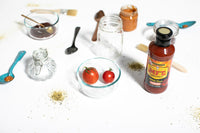 About the Family
In 2010, Scott Tharp started My Family Tradition Sauce and Rub Company and since then Scott has done more than refine an old tradition: he's started a new one. Guided by a strong purpose of caring for his family with natural food, Scott began with an old family recipe and transformed it into a sauce with clean, natural ingredients that still maintains the flavor that has lasted generations. 

Scott's creativity grew one recipe into many and now we have a variety of not only BBQ sauces but also Gourmet Ketchup, specialty sauces, local collaborations and many more.

All MFT Sauce products are handcrafted in small batches in our commercial kitchen in Boise, Idaho.
Learn More